Yoga is one of those very underrated forms of exercise that does a whole lot more than offer physical health. According to John Hopkins Medicine, it also helps with mental health, stress management, mindfulness, increases quality sleep, and even helps with healthy eating. Why not start kids with this healthy habit in middle school?
Combine interval training with yoga to up students' heart rate by playing their favorite songs and pausing the music every 30-40 seconds to get them into predetermined yoga poses. They'll love the mix-up and the challenge of working hard and then slowing down.
Learn more: Do You
When the adult turns their back, students will speedwalk toward them. When the adult turns around, have your middle schoolers stop and get into a predetermined yoga pose. Similar to red light - green light, this game is a spin on the classic.
Learn more: Do You
Have partners work to toss a beach ball with written poses on them back and forth. Whichever pose faces them when they catch it is the pose they have to do for 30 seconds while the other takes a break.
Learn more: Pink Oatmeal
4. Gentle Yoga for Middle School
This video leads students through a session of gentle yoga, which is perfect for newbies and students of many different ability levels. This slow session also helps teachers correct form while walking around the room and monitoring poses.
Learn more: Towne Yoga
5. Pre-Yoga Stress Activity
Yoga is all about mindfulness and controlling stress. Start your middle schoolers with a little background knowledge about stress, and then progress into a yoga session after they've identified stress triggers to give them time to meditate on it.
Learn more: The Worksheets
Who said you couldn't combine literacy and yoga? This activity is a way for kids to work around the room in rotations while combining yoga. The cards require students to read about the poses prior to completing them.
Learn more: Building Book Love
Captivate kids with this fun yoga game that requires you to tell a story using your personal creativity and yoga poses that students must participate in as you tell the tale. A challenge in creative storytelling, but all the fun of yoga. You could even challenge kids to make their own stories.
Learn more: Kumurah
Give students homework and have them come up with their own yoga pose cards to bring to school to add to the yoga lessons. They'll like getting creative and challenging their friends as they teach each other new yoga poses.
Learn more: Kumarah
9. Call/Response Yoga Flow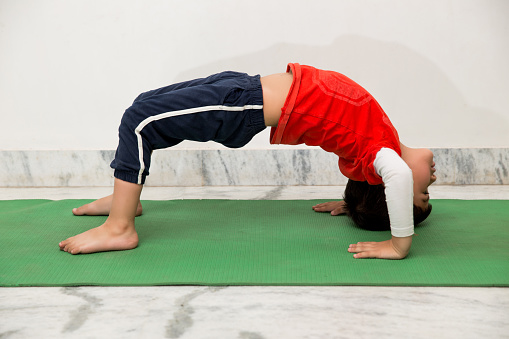 Middle schoolers love to hear themselves talk. Why not give them the opportunity by creating a call-and-response yoga flow? It will also help reinforce the poses so they learn them, and ultimately create a routine for students to know what to expect each session.
Learn more: Kumarah
Have students hunt for yoga flashcards on yoga mats around the room with simple postures that they can practice on their own with this fun scavenger hunt day. Add a fun checklist for them to check off and a reward at the end.
Learn more: Yogic Experience
Help middle schoolers develop communication skills by getting them engaged in some awesome partner yoga poses. This partner activity will allow kids to work with their friends as they practice their body movements, balance, coordination, and communication.
Learn more: Karma Kids Yoga
This is an alternative to students doing partner yoga. Pair them up and instead of working together for poses, ask tweens to mirror whatever yoga postures their partner does. Be sure to have them hold poses for 30 seconds and take turns.
Learn more: Yogic Experience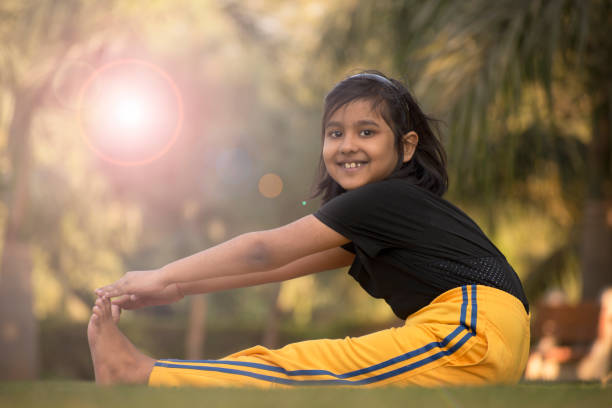 This is a great yoga practice to help kids learn the most common yoga poses. You can work on this fun activity with partners, or you can do teams to create a bit of a competition. Tweens love a good competition, and they'll love incorporating it into exercise.
Learn more: Yogic Experience
This adorable kit from Lakeshore Learning comes with yoga mats, and yoga pose cards to add to your daily activities. Use them as a warm-up or as part of your entire unit on yoga.
Learn more: Lakeshore Learning
When students get into trouble, we're quick to punish them. But what better way to help them understand their actions were harmful than by using the effective mindfulness exercise of yoga? Use yoga as a part of your consequence to help them develop ownership, address feelings, and ultimately teach them important lessons.
Learn more: WSHU News
This is a fun and simple game that requires students to listen as two body parts are called for them to keep on the mat as they become inventive to create yoga poses around those commands. You could even grab twister mats to incorporate colors for a more challenging activity.
Learn more: Go Go Yoga Kids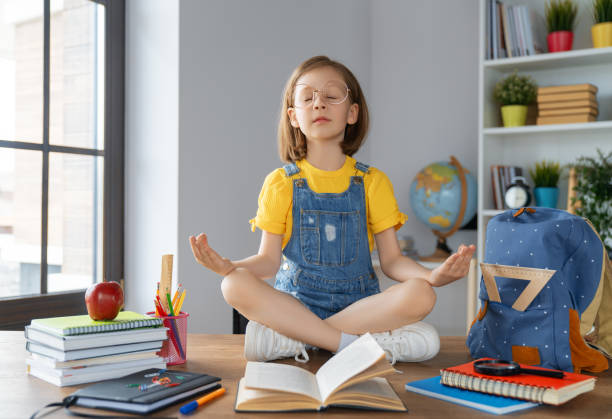 Desk Yoga is perfect for the classroom! Whether you use it between testing sessions, long lessons, or just as a random break, it is the perfect way to get bloodflow circulating, attention span refocused, and practice mindfulness.
Learn more: Etsy
Add this adorable spinner to your yoga unit and your middle schoolers will love the switch in monotony. You can make it a game, or simply use it to determine the next pose as a whole group. It includes pose cards and this durable spinner.
Learn more: Surviving a Teacher Salary
Take a chance and roll the dice. These are great for an intro to yoga, or as a fun change of pace during your favorite unit. Tweens will like the idea of dice as it makes the activity seem like more of a game and keep them guessing.
Learn more: Think Fun
Disguised as a board game, this one will definitely keep middle schoolers on the top of their game by working on both their memory skills as well as their muscles and balance.
Learn more: Board Game Geek