Whether you're a teacher whose in between jobs, an educator looking to boost their salary, or a former tutor looking to shake things up, you've certainly come to the right place! We've got 38 fantastic job opportunities for you to explore. From educationally-driven ideas such as tutoring and consulting to more creative pursuits such as life coaching and textbook creation, we've got all the inspiration you need to delve into a new pursuit whilst sharing all your expertise!
1. Tutoring
How about offering personalized, one-on-one learning opportunities? Your ability to identify and address individual learning needs is invaluable here! If you're ready to enlighten, encourage, and engage students to reach their full potential, this is a perfect job opportunity for you!
Learn More: Owl Tutors
2. Educational Consultant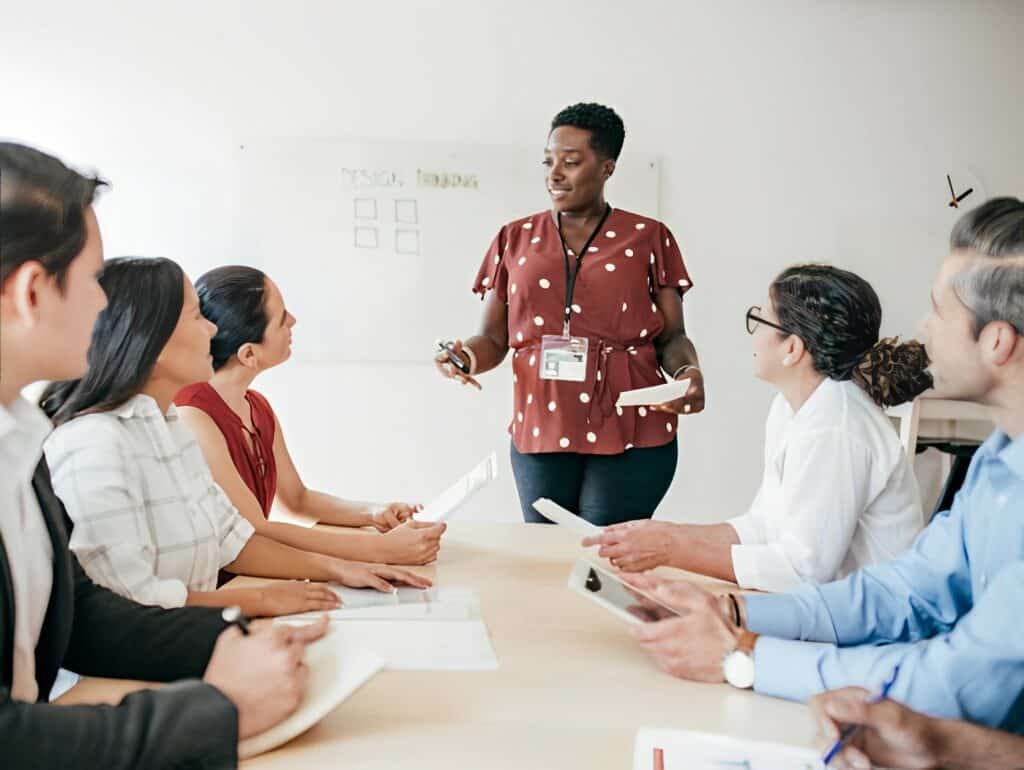 Elevate schools by applying your pedagogical prowess to enhance curriculums and improve basic teaching methodologies. As a consultant, your role will be to ignite positive change whilst leveraging your keen understanding of educational processes and best practices.
Learn More: Grand Canyon University
3. Freelance Writing or Editing
Turn your teaching knowledge into something that educates beyond the classroom walls! As a writer or editor, you can help distill complex concepts into engaging, understandable content whilst mirroring the work you did every day as a teacher.
Learn More: Teacher Career Coach
4. Corporate Training and Development
Transfer your skill in molding young minds to nurturing professional growth. As a corporate trainer, you'll be responsible for helping adult learners acquire new skills and knowledge; much like you did with your students.
Learn More: Zenefits
5. Education Coordinator at Museums or Zoos
Harness your creativity and teaching experience to craft memorable experiences outside of traditional classrooms. The knack for capturing attention and simplifying complex ideas that you honed as a teacher will serve you well in this unique setting.
Learn More: Art Museum Teaching
6. Education-Related Nonprofit Work
Your understanding of the education system's intricacies can drive policies and initiatives that benefit learners far beyond a single classroom. Channel your commitment to education into creating a meaningful impact on a broader scale.
Learn More: UWM Edu
7. Library Sciences
Transfer your knowledge from the classroom to the library. As a librarian, your expertise in fostering curiosity and learning will help patrons navigate the vast world of literature and knowledge.
Learn More: Teacher.org
8. Educational Policy Analyst
Shape the future of education by applying your teaching experiences to influencing educational policy. Your first-hand understanding of the classroom environment will prove invaluable in driving effective educational reforms.
Learn More: SOE Online
9. Standardized Test Developer
Put that carefully curated knowledge base of curriculum standards to the test and craft meaningful exam questions. As a test developer, you'll need to ensure assessments accurately reflect and measure student knowledge and skills.
Learn More: Resilient Educator
10. Education Technology Sales or Consulting
Bridge the gap between classrooms and technology by becoming an education-based tech consultant. As a consultant or sales rep, you can leverage your insights into classroom needs to guide the integration of cutting-edge educational technology.
Learn More: Responsify
11. Curriculum Designer
Your in-depth understanding of learning objectives and pedagogical strategies can help you shape effective and engaging curriculums.
Learn More: YouTube
12. Child Advocate
Using your keen sense of empathy and responsibility fostered through years of teaching, you can stand up for children's rights on a broader scale! As an advocate, your familiarity with student needs will help ensure that they receive the services they require.
Learn More: Linkedin
13. Academic Advisor
Be a guiding light in helping your former learners shape their educational and career paths. Your insight into individual aptitudes and aspirations will help them make informed decisions about their future.
Learn More: Resilient Educator
14. School Administrator
Leverage your classroom management skills and understanding of educational processes to shape school systems. Your expertise will guide other educators and influence the learning environment at a broader level.
Learn More: Teacher.org
15. Professional Speaker
Inspire educators, parents, and policymakers by sharing the wealth of knowledge you've amassed as a teacher. As an educational speaker, your previous classroom experiences offer valuable insights into the realities of education.
Learn More: Education Week
16. Instructional Coordinator
Apply your understanding of effective teaching methodologies and curriculum design to standardize and elevate teaching practices to a whole new level. Your role will be to ensure a consistent, high-quality learning experience across the school or district.
Learn More: Teacher Career Coach
17. After-School Program Coordinator
Your creativity and understanding of student interests can help you shape programs that kids will look forward to! Put your lesson planning and student engagement skills to work as you craft enjoyable after-school programs.
Learn More: Procare Software
18. Education Product Representative
Use your classroom experience to help schools and educators find the educational products that best meet their needs. Your understanding of the practical needs in teaching and learning can influence product design and utilization.
Learn More: Hubspot
19. Textbook Author
Draw from your years of teaching to create textbooks that resonate with students. Your understanding of how they learn will be an asset in informing and enriching the content you create.
Learn More: UM Flint Edu
20. Adult Education Instructor
Your teaching experience doesn't just have to be limited to the youth of the country! Why not tailor your approach and teach adult learners; empowering them to acquire new skills and knowledge.
Learn More: SOE Online
21. Public Relations Specialist for Schools
Shine a spotlight on a school's achievements. Your insight as a teacher gives you a unique understanding of school dynamics and narratives; something that can be harnessed to create engaging and authentic stories that portray the school in the best light!
Learn More: School Webmasters
22. College Admissions Counselor
Utilize your knack for understanding students' academic aspirations and skills in guiding them through the complex college application process. Your insight into their potential and the academic landscape at large makes you an invaluable mentor in their next big step!
Learn More: San Diego Family
23. Legislative Advocate
Make the most of your classroom experiences to influence educational policy on a grand scale. You can use your understanding of education's realities to lobby for meaningful change; benefitting students and current educators alike.
Learn More: Sage Journals
24. Life Coach
Apply your deep understanding of individual potential and personal growth to guide people toward success in diverse fields. Your skill in fostering development is sure to inspire and empower clients to achieve both their personal and professional goals.
Learn More: 13 News Now
25. Grant Writer
Channel your passion for education into securing funds for educational programs and initiatives. Your potential to articulate the value and impact of education can be maneuvered to convince donors to invest in the future of learning.
Learn More: SSWW
26. Human Resources Training Specialist
Utilize your teaching skills to educate the workforce. As a training specialist, your ability to create engaging and effective learning experiences can be efficiently channeled to foster employee development and organizational growth.
Learn More: Grand Canyon University
27. Private School Admissions Counselor
Leverage your experience with students to help private schools identify and select potential students who are suitable for specialized academic or sporting climates. Your keen eye for spotting both academic potential and character can significantly contribute to a school's student body.
Learn More: Spark Admissions
28. Mentoring
Become the guiding hand for new teachers; sharing the wisdom and best practices you've accumulated over the years.
Learn More: Next Gen Learning
29. Community College Instructor
Are you a retired teacher who misses the classroom environment and longs to get your feet back on the teaching ground? Transition your teaching skills to the world of higher education. Your subject matter expertise and instructional acuity can be used to facilitate learning at a community college level.
Learn More: Resilient Educator
30. Education Blogger or Vlogger
Voice your educational insights and experiences in the digital sphere! Your classroom stories, tips, and lessons are bound to inspire a broader audience and stimulate dialogues about education.
Learn More: Plan Book
31. Children's Book Author
Turn your understanding of children's interests and development into enchanting stories that aim to educate as well as entertain. Your ability to simplify complex ideas and engage young minds can help you create magic on every page!
Learn More: Shelburne Free Pass
32. Tutoring Company Owner
Why not take on an impactful entrepreneurial venture? Owning a tutoring company enables you to share your knowledge on a larger scale and help more students succeed.
Learn More: Merchant Maverick
33. Home School Consultant
Use your teaching experience to guide families through the homeschooling process. In the diverse world of modern-day teaching, your savvy in learning styles, curriculum development, and pedagogy can help parents create effective home learning environments.
Learn More: Homeschool Connections
34. Youth Services Worker
Leverage your experience with students to provide support to at-risk youth. Your empathy and understanding will certainly make a difference in community centers or juvenile detention centers- just as they did in the classroom!
Learn More: YouTube
35. Educational Researcher
This is your calling to expand the boundaries of pedagogical knowledge. Your hands-on teaching experience, combined with a research mindset, can yield valuable insights into teaching methods, learning styles, and educational outcomes; helping you become an educational researcher.
Learn More: Education Week
36. Online Course Creator
Introduce your teaching prowess to the digital world. Your ability to design engaging and effective learning experiences will certainly not go lost when it can be used to make education more accessible to people on a global scale.
Learn More: Cypher Learning
37. Volunteer Coordinator for Schools
If you have a good understanding of school dynamics, you could have what it takes to effectively manage volunteers for various school activities. Your role will ensure that community members make a positive contribution to the school environment.
Learn More: VIVA HR
38. Study Abroad Coordinator
Put your knowledge of academic programs and student needs to work by helping college students navigate the intricacies of studying abroad. Your guidance will be much appreciated in shaping the international learning experiences of students.
Learn More: Mount Saint Mary College