Writing a resignation letter is not always an easy task! It's often one that's laden with emotions and a touch of uncertainty. But, it's a crucial part of moving forward in your career journey. Here, we aim to guide you through the process; making it a simple and straightforward undertaking!
Understanding the Purpose of a Resignation Letter
Why Resignation Letters Are Essential
Resignation letters are formal notifications that signal your departure from a job. They're essential for maintaining professionalism, documenting your decision, and paving the way for a seamless transition.
How they Help Maintain Professionalism & Leave a Positive Impression
A well-written resignation letter demonstrates respect towards your employer and colleagues. It gives you the opportunity to leave on a high note, maintaining a positive relationship for future interactions.
Learn More: Indeed
When to Submit a Resignation Letter
Tips for Understanding the Appropriate Timing and Notice Period
Ideally, a resignation letter should be submitted two weeks prior to your final working day. However, be sure to review your contract or employee handbook for company-specific requirements pertaining to the notice period.
Considerations for the Academic Calendar
In an academic setting, it's helpful to align your departure with the end of a school term or semester. This minimizes the disruption felt by your students and gives the school ample time to find a suitable replacement.
Learn More: Job Boom
Key Elements of a Teacher Resignation Letter
An Explanation of Each Element of a Resignation Letter
Salutation: Start with a formal greeting, such as "Dear Principal [Name]".
Statement of Resignation: Clearly state your intention to resign and provide the date of your final working day.
Reasons for Leaving: Optionally, you can share the reason for your departure- whether it's a career move, personal reasons, or retirement.
Appreciation Statement: Thank your employer for the opportunities provided during your tenure.
Signature: End the letter with your full name and signature.
Learn More: Indeed
Sample Resignation Letters
Example #1:
Example #2: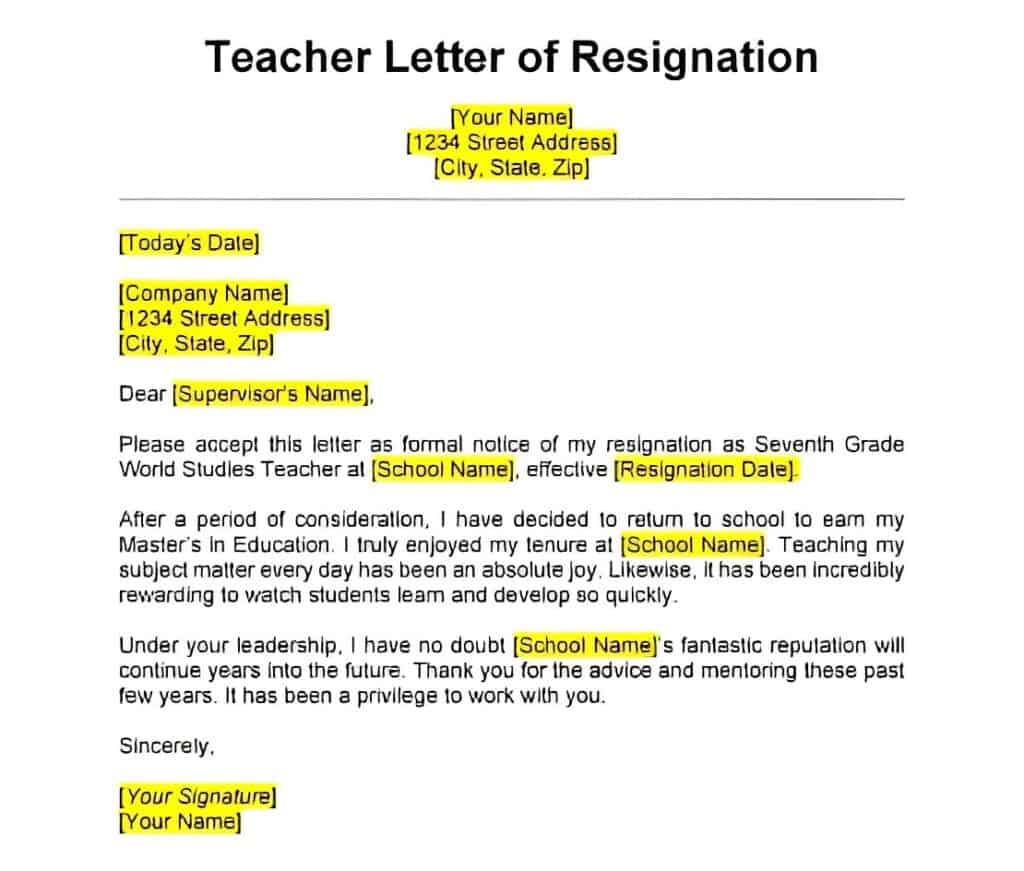 Example #3:
Providing examples of well-written teacher resignation letters for different scenarios: We provide various examples, each addressing different circumstances such as relocation, career change, retirement, or personal reasons. Use these samples as templates to structure your own letter.
Learn More: Template Lab, Pinterest, Template Lab
Tips for Writing a Resignation Letter
To help you craft a sincere and professional resignation letter, we've got a few more helpful tips that you can follow:
1. Keep your letter positive and professional.
2. Express gratitude for the opportunity afforded to you.
3. Be concise and to the point; ensuring that your intent is clearly communicated.
4. If able, offer to be of assistance with the transition process- this will make the onboarding process of your successor a whole lot smoother! 
5. Always proofread your letter to avoid any errors or misunderstandings.
Learn More: Your Dictionary
What to Do After Submitting Your Resignation Letter
Once you've submitted your letter, start preparing for your departure. Document and share essential information that can be passed on to your successor, tie up loose ends, and take the time to bid your colleagues and students a fond farewell.
Learn More: Intoo
Conclusion
A well-written resignation letter marks the closure of one professional chapter and the opening of another. It's an essential document that maintains professionalism, leaves a positive impression, and ensures a smooth transition. While it may seem daunting, writing this letter is less about ending your current role and more about paving the way for new opportunities. It's okay to feel uncertain or emotional about this transition. As you use our outline to craft the perfect farewell, know that this is a common part of anyone's career journey, and you're not alone!
FAQs
1. What if I am leaving in the middle of the school year?
While it's preferable to align your departure with the end of a school term or semester, unforeseen circumstances may require you to leave in the middle of the year. In such cases, provide as much notice as possible and offer to assist in finding a suitable replacement or in the transition process to minimize the impact on your students.
2. Should I mention my reason for leaving?
The choice to mention your reason for leaving is entirely up to you and may depend on the specifics of your situation. If you feel comfortable sharing and believe it will help maintain a positive relationship with your employer, you can certainly include this in your letter.
3. What should I do after submitting my resignation letter?
After submitting your resignation letter, start preparing for your departure. This may include documenting and sharing important information for your successor, tying up loose ends, and taking time to say goodbye to your colleagues and students.
4. Can I change my mind after submitting a resignation letter?
This largely depends on your school's policies. In some cases, an employer may choose to accept a rescinded resignation, but it's not guaranteed. It's important to be certain about your decision before submitting your resignation.
5. Is it necessary to write a physical letter, or can I resign via email?
While a physical letter is more traditional, an email can also serve as a valid form of resignation, especially in today's digital age. However, it's important to maintain the same level of professionalism in your email as you would in a physical letter.