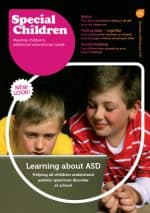 Special Children magazine is for everyone involved in the education of children with special educational needs and disabilities.
Special Children is a 56-page, full-colour magazine, distributed bi-monthly. Whether you work in a mainstream or special school, for a local authority support service or a voluntary organisation, our features will keep you in touch with 'best practice' in the UK.
Our news pages bring you the latest developments from government initiatives to groundbreaking research. Our review pages highlight the latest books, software and teaching resources to help you improve outcomes for your pupils. And being independent we aren't afraid to speak our mind examining the debates and issues concerning you.
Special Children is written to provide news and ideas for:
All teachers (especially SENCOs)

Educational psychologists

Teaching assistants

Voluntary workers

Therapists

Learning support assistants
Throughout the year, Special Children features articles which address all aspects of special educational needs across the whole age range, including autism, emotional and behavioural difficulties, dyslexia, hearing impairment, visual impairment, physical disabilities and communication difficulties.
To experience for yourself the benefits a subscription to Special Children can bring, why not subscribe now risk free? Your subscription can be cancelled at any time, simply return the invoice you recieve to us marked 'cancel' and a full refund is given on all un-mailed issues.
Subscribe for two years and save 20% on your second year!
Advertisers can download the media pack here. 
TO GET THE LATEST PRODUCT INFORMATION PLEASE VISIT OPTIMUS EDUCATION