Little ones often love dinosaurs! These prehistoric animals bring lots of fun to little ones! Their fascination with dinosaurs makes them a terrific topic for learning at home and in the classroom. Dinosaur-themed lessons will engage little ones and keep them focused as they learn. Therefore, we are providing you with 23 dynamic dinosaur-themed activities. Use this list of lots of dinosaur activities to assist you as you plan the perfect dinosaur units of lessons for your little ones.
1. Dinosaur Clothespin Puppets
These printable Dinosaur Clothespin Puppets are one of the most awesome dinosaur activities! They are extremely simple to make and will provide lots of fun for your little one. Twelve different designs are available to choose from, and they are awesome for imaginative play! This is one of the most perfect crafts for toddlers!
Learn More: Easy Peasy and Fun
2. Dinosaur Jell-O Rescue
For this adorable dinosaur activity, place plastic dinosaurs and various rocks on the bottom of a casserole dish or cake pan. Cover the items with the liquid Jell-O mix and let it sit in the refrigerator until firm. Once ready, prepare your materials by placing the pan on a towel newspaper and pairing it with tweezers and plastic cups. Let the dinosaur rescue begin with one of the greatest ideas for toddlers!
Learn More: Engaging Littles
3. Dinosaur Feet
This awesome dinosaur craft allows your little ones to make cardboard dinosaur feet. Let your children demonstrate their creativity and drawing skills by drawing the feet on cardboard and using scissors to cut them out. Allow them to decorate them any way they like! This is a fun dinosaur idea!
Learn More: Red Ted Art
4. Dino Silhouette
Little ones will love creating silhouettes of their favorite dinosaurs! Encourage the children to paint sunsets on watercolor paper. While it is drying, the kids will cut out black dinosaur silhouettes from pieces of black construction paper. These adorable dinosaur paintings are crafty art pieces!
Learn More: Let's Play, Learn, & Grow
5. What Do I Eat?
This fun dinosaur activity is an easy reader book that is perfect for dinosaur lovers! It is super fun to create and read. Increase dinosaur learning as your little ones have a blast learning the names of dinosaurs while reading their dinosaur-themed book! This is one of the most terrific dinosaur educational activities!
Learn More: 3 Dinosaurs
6. Erupting Dinosaur Extinction Slime
Erupting Dinosaur Extinction Slime is such a fun activity! This fizzing, foaming reaction ends with slime your little one can play with! This activity is super simple to create with a few inexpensive ingredients. Watch the slime erupt and bury the dinosaurs!
Learn More: Teach Beside Me
7. Dinosaur Bones Art
This fun dinosaur skeleton craft is a wonderful opportunity for teaching little ones about dinosaur bones and skeletal structures. This crafty project is the perfect activity for all ages. Take a dinosaur cut out from black construction paper and use q-tips to create its skeleton.
Learn More: Long Island Children's Musem
8. Dinosaur Toilet Paper Roll Craft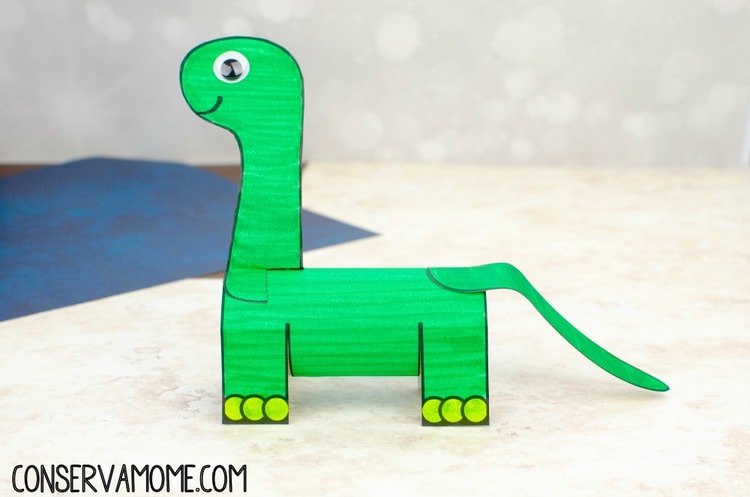 This is the cutest dinosaur activity, and it is super easy for your little one to make. To make this adorable dinosaur toilet paper roll craft, all you need to do is print the template, cut it out, color it, and glue it together.
Learn More: ConservaMom
9. Glue-Less Printable Dinosaur
This fun dinosaur idea is an easy craft for your kids to complete. All you have to do is print the template on colored paper and fold it into your dinosaur shape. It is a mess-free activity that your child will love!
Learn More: Krokotak
10. D is for Dinosaur
Most kids are fascinated with dinosaurs! Therefore, this dinosaur letter activity is a wonderful way to teach the students' letter recognition of the letter "d." Encourage the little ones to arrange the eyes, scales, and any other creative markings however they choose.
Learn More: The Kindergarten Connection
11. Dinosaur Suncatcher
Celebrate dinosaur week with this fun idea for little dinosaur lovers! The dinosaur suncatcher craft is simple, yet messy, to make. Make sure you grab your craft supplies and help your little one create this adorable suncatcher!
Learn More: Crafty Corner DIY
12. Tissue Paper Dinosaur
Little ones will bring life to a dinosaur with this adorable tissue paper dinosaur craft. Draw a dinosaur on cardboard and cut it out. Spread glue on the cardboard dinosaur cutout and cover it with small pieces of tissue paper. When it dries, your little one can spend lots of time playing with this cardboard dinosaur toy!
Learn More: Simple Everday Mom
13. Dinosaur Egg Oatmeal
Create your own dinosaur egg oatmeal by melting white chocolate to create small eggs and dot each with a dinosaur sprinkle. Cover the dinosaur chocolate and freeze them until firm. Shake the eggs in a plastic bag with powdered sugar and pour them into warm brown sugar and cinnamon oatmeal. As you stir, look for the hatching dinosaurs.
Learn More: My Recipes
14. Dinosaur Snack Mix
This dinosaur snack mix is perfect and simple to make for a dinosaur party! All you need to do is mix together popcorn, edible chocolate rocks, gummy dinosaurs, pretzel sticks, and chocolate-covered almond eggs. Use dinosaur figurines for additional decorations.
Learn More: Make Life Lovely
15. Dinosaur Krispie Treats
Use dinosaur-shaped cookie cutters to create these tasty dinosaur Rice Krispie Treats. Once you cut out the shapes, you and your little one can decorate each dinosaur. Enjoy this edible dinosaur-themed food activity! These are also great to serve at a dinosaur birthday party!
Learn More: How to Make Rice Crispy Treats
16. Dinosaur Lacing Cards
This super cute dinosaur craft is super easy for little dinosaur fans! They will enhance hand-eye coordination with dinosaur lacing. Use printable lacing cards printed on card stock or regular paper. Laminate the cards to make them sturdier. Hole-punch them and let your little one lace away!
Learn More: Living Life and Learning
17. Dinosaur Necklace
This awesome dinosaur idea will provide your little one with a cute keepsake. This fun and simple craft can be created with a variety of plastic dinosaurs, strings, and beads. Have fun with this dinosaur theme idea!
Learn More: Crafts by Courtney
18. Paper Plate Dinosaur Mask
This fun dinosaur mask activity will allow your little dinosaur fan to have an amazing time transforming a paper plate into an adorable dinosaur mask. This fun dinosaur craft is a terrific activity for a dinosaur-themed party.
Learn More: Today's Creative Ideas
19. Dinosaur Bones Pretzels
Are you searching for a fun dinosaur snack for a dinosaur-themed party? This easy and fun dinosaur dessert idea will have your guests coming back for more. All you need is melting white chocolate and pretzels to create this tasty snack.
Learn More: Grace Like Rain
20. Handprint Dinosaur Card Craft
This is one of the cutest dinosaur crafts for kids to make for their dads on Fathers' Day or any day they wish to celebrate their dads. Use this clever dinosaur idea, so Dad will have a precious keepsake for years to come!
Learn More: Fun Handprint Art
21. Dinosaur Movement Game
This dinosaur movement game goes along great with the dinosaur book Dinosaurumpus by Tony Mitton. You can easily create this fun dinosaur game with this free dinosaur activities printable. Your little ones will have a blast based on the actions from the cute dinosaur book.
Learn More: The OT Toolbox
22. Dinosaur Number Game
Little ones love this cute dinosaur counting game! It can help your children increase their counting and number recognition skills as they have lots of math fun! They will count the dinosaurs and match them to the correctly numbered egg.
Learn More: Nurtured Neurons
23. Dinosaur Ice Cream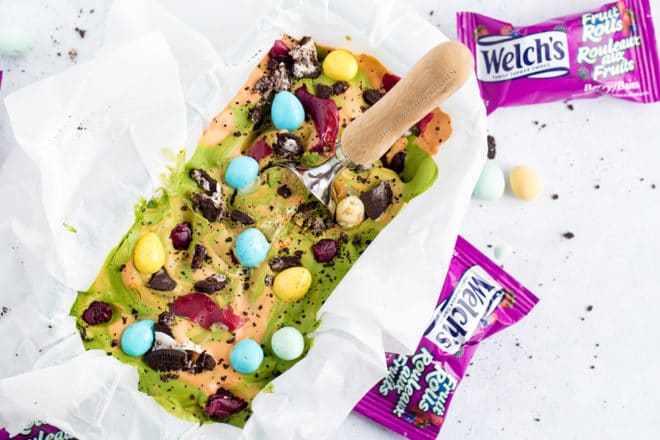 Enjoy this dinosaur recipe for ice cream! This no-churn dinosaur ice cream is very easy to make, and it pairs well with dinosaur cake. Celebrate dinosaur day and make yours today! Your kids are sure to love this super delicious dinosaur treat!
Learn More: The Bewitchin Kitchen
24. Dinosaur Footprint Stamping
Lead your little paleontologists on a journey to the past with this footprint stamping activity! Invite them to dip toy dinosaur feet into washable paint and then have them stamp it onto paper to create a trail of dino footprints. This activity is the perfect way to incorporate some creativity into prehistoric learning.
Learn More: Toddler at Play
25. Dinosaur Balloon Pop Game
This interactive activity is sure to add a pop to your kiddos' day! Start by filling balloons with small dinosaur toys and then inflate them. Then, task your pupils with popping the balloons to rescue the dinosaurs inside.
Learn More: Pinterest
26. Dinosaur Habitat Creation
Transport your learners to a world filled with dinosaurs by engaging them in this habitat creation activity. Simply provide them with a variety of materials like sand, rocks, and small plants to create their very own luscious dino landscapes.
Learn More: Little Fish
27. Dinosaur Toothbrush Painting
Bring out those old toothbrushes for this crafty activity! Encourage your little artists to use their toothbrushes to bring their dinosaur inspired artwork to life. They can begin by painting a dino of their choice and then use their toothbrushes to create unique textures that resemble the scaliness of dino-skin.
Learn More: Kiddy Charts
28. Dinosaur Egg Hunt
Your kiddos are in for an "egg-citing" day of learning with this activity. Start by hiding small dinosaur toys inside play-dough or plastic eggs and then hide them outside or in your classroom and let the hunt begin! Once your little ones have found the eggs, they can crack them open to reveal the dino surprise inside.
Learn More: Adventure in a Box
29. DIY Dinosaur Shadows
This activity incorporates shadows to transport your students to a land before time. Task them with cutting out dinosaur shapes from black construction paper before attaching them to popsicle sticks. Then, use a flashlight in a dark room to cast giant dino-shadows on a wall. Entertain your little ones with imaginative stories as they watch the shadows dance around the room.
Learn More: Wonderbly Blog
30. Dinosaur Fizzy Eggs
Blend science and fun by creating baking soda eggs with hidden dinosaurs inside. Have your kiddos add water to colored baking soda to create a colorful paste. They can then use this paste to form an egg around a small dinosaur toy. For the main event, allow them to drop the eggs into vinegar- they will watch in amazement as their egg fizzes to reveal the hidden dinosaur inside!
Learn More: Parenting Chaos
31. Dino Puzzles
Introduce your kids to a world of fun and learning with printable dino puzzles. Simply print and cut out dinosaur-themed puzzles for them to build. They can learn about different species as they try to piece together these ancient creatures.
Learn More: Empowered Parents
32. Dinosaur Storytime Session
Captivate your learners' imagination with tales of the prehistoric era. To do this, collect a series of dinosaur-themed storybooks and engage them in a story session that is sure to fuel their interest in these ancient creatures.
Learn More: Literacious
33. Dinosaur Origami
Get those little hands folding with this dinosaur inspired origami activity. Guide your kiddos on the folds they need to make with their paper to create a 3D replica of their favorite dinosaurs.
Learn More: YouTube
34. Dinosaur Hopscotch
Transform the classic game of hopscotch into a dinosaur-themed challenge. Simply start by drawing a variety of dino footprints on the ground. Then, prompt your kiddos to hop, skip, and jump as they follow in your footprints.
Learn More: KPL Kids' Corner
35. Dinosaur Clay Modeling
Here's a hands-on activity that's sure to excite your little ones' senses. Invite them to mold their very own dinosaurs by providing them with modelling clay of various colors. This is a fantastic way to familiarize your eager learners with the physical features of their giant friends.
Learn More: YouTube
36. Dino Memory Match Game
Create lasting memories for your kiddos with this engaging card-matching game. Simply make use of cards with pictures of different dinosaurs on them and then challenge your kiddos to find the matching prehistoric pairs.
Learn More: The Artisan Life
37. Dinosaur Fossil Cookies
Your kiddos are sure to love this sweet activity. Involve them in whipping up a batch of sugar cookies before allowing them to press small dinosaur toys into the dough before baking to create fossil imprints. They won't be able to resist these adorable dino-themed treats!
Learn More: Raising Veggie Lovers
38. Dinosaur Yoga Poses
Turn physical activity into a roaring good time with dinosaur-themed yoga poses! Get creative and task your learners with poses to try out – like "T-Rex tall stance" or "Brachiosaurus stretch".
Learn More: Kids Yoga Stories
39. Interactive Dinosaur Wall
Liven up your kiddos' learning space with an interactive dinosaur wall. Begin by setting up a wall with vibrant pictures of various dinosaurs. Involve your learners by providing them with information cards that they can match to each dinosaur – making it a fun and engaging activity for all!
Learn More: Decoist
40. Dinosaur Puppet Theater
Add a touch of theater to your lesson with a dinosaur puppet show. Start by having your little performers craft dinosaur puppets using paper bags or socks and then invite them to put on a dino-themed puppet show with their creations. Let their imaginations run wild as they create stories of their own, set in the prehistoric era.
Learn More: Super Simple