If your students are going to be working on equivalent fractions now or anytime soon, you're going to want to bookmark this page! This can be a tricky concept for kids to grasp. Luckily for you, teaching fractions doesn't have to be a painstaking process. Simply having the right resources and activities will make the teaching process that much easier as students embark on the mathematical journey of equivalent fractions.
1. Identify Equivalent Fractions Game
Online learning has become second nature for students. This fun game has students working to identify equivalent fractions represented by bar models and numeric fractions.
Learn More: Splash Learn
2. Bar Model Fractions
Have students work through a discovery session at the beginning of the lesson using these bar models. The hope is that as they mix up and move the pieces around, they will start to understand the crucks of equivalent fractions.
Learn More: Mashup Math
3. Matching Equivalent Fractions Game

Here is another fun game to challenge kids' knowledge of math! This one is set up like a traditional game of speed and skill, and kids will love racing to match the equivalent fractions.
Learn More: Splash Learn
4. Equivalent Fractions Match-Up
This worksheet prompts kids to observe pie models and then write what the value is in fraction form. This would be a great way to introduce the connection between the visual models and the numerical form of equivalent fractions.
Learn More: Education
5. Dough Fractions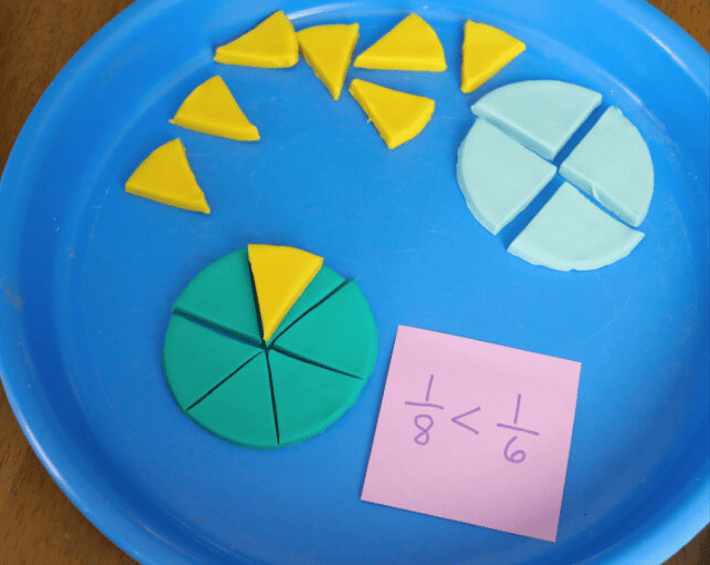 Check out this cool idea where kids can use cookie cutters to create pie models to help them learn about equivalent fractions. They can easily overlap and view the fractions in a tangible way.
Learn More: Frugal Fun 4 Boys
6. Sticky Note Fractions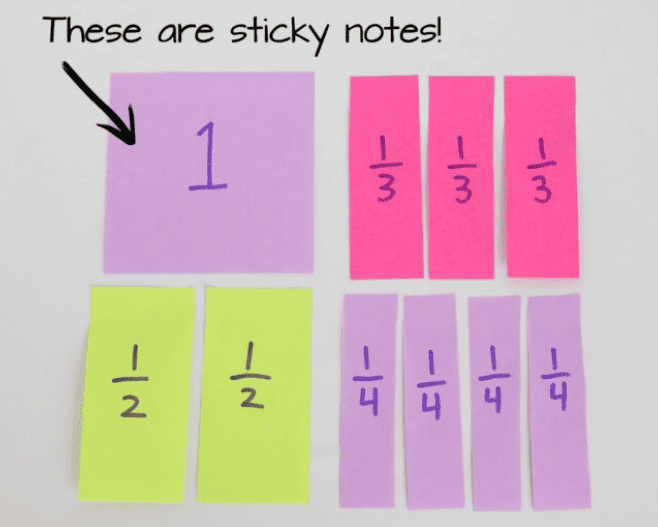 It is no secret that sticky notes have so many uses! Teaching fractions is another idea that you can add to the already-long list. Kids can manipulate them and stick them to the wall or a poster to refer to while working out math problems.
Learn More: Frugal Fun 4 Boys
7. Equivalent Fraction Spoons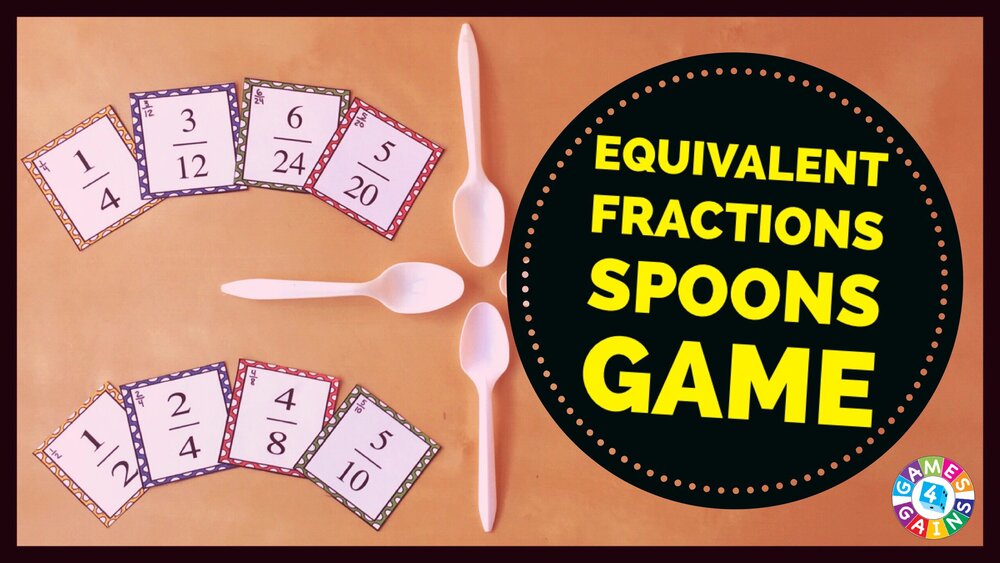 The classic card game of spoons turns into a fun game of equivalent fractions. Once a student has 4 equivalent fractions in their hand, they must grab a spoon and each player must race to also grab a spoon. The last one without a spoon is out and the game continues!
Learn More: Games 4 Gains
8. Equivalent Fractions Four in a Row

Students practice their fraction skills by taking turns drawing a word or numerical fraction from the deck. On their game boards, they will color in the correct fraction. The first student to get four in a row wins!
Learn More: The Curriculum Corner
9. Pool Noodle Equivalent Fractions
Another fun way to represent fraction models is by using pool noodles. Kids can use these as manipulatives to work out problems or simply as a center to explore and practice their fraction knowledge.
Learn More: Amazon
10. Dancing Fractions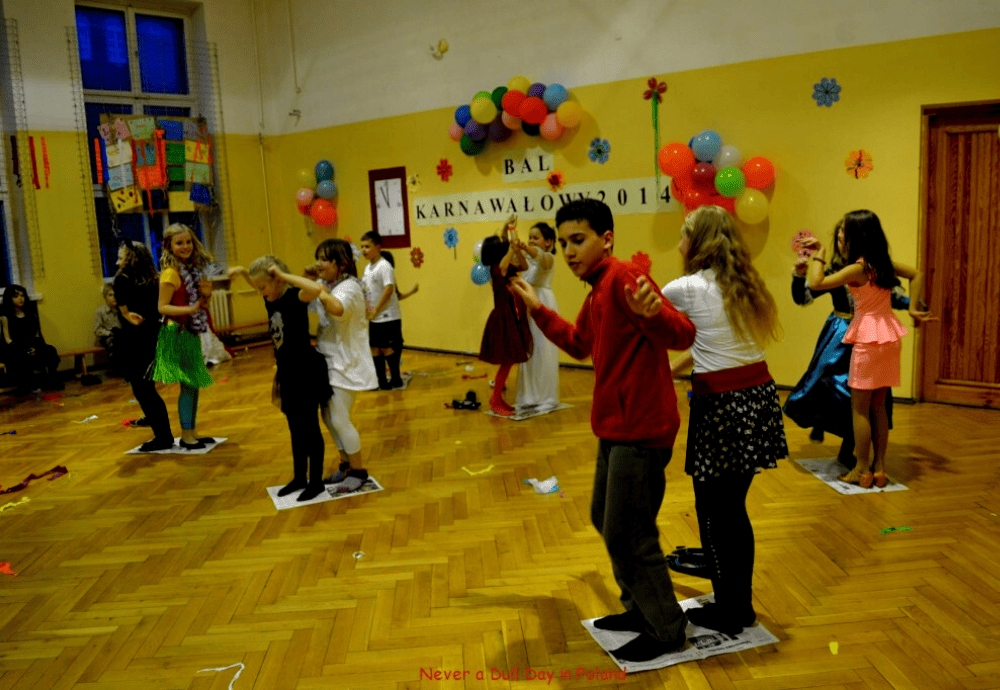 Students will start this activity by dancing on a piece of newspaper. Stop the music and ask the students to fold it in half. Once the music starts, the dancing begins. Repeat the process; stopping each time to make a smaller square. Explain the equivalent fractions as you go; challenging students to stay on their paper while dancing.
Learn More: Mrs. King's Music Class
11. Spin for Equivalents
This is a fun fraction game that uses a spinner. Kids will spin a paper clip on a printed spinner to try and match for an equivalent fraction.
Learn More: We Are Teachers
12. Hands-On Equivalent Fractions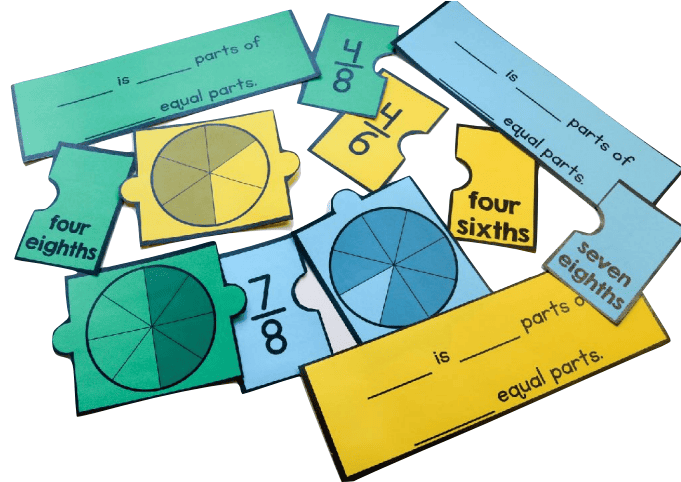 This number line is helpful when teaching kids how to compare fractions. Kids will take the fraction pieces and place them in their respective places on the number line.
Learn More: Teachers Pay Teachers
13. Fraction Pizza Trade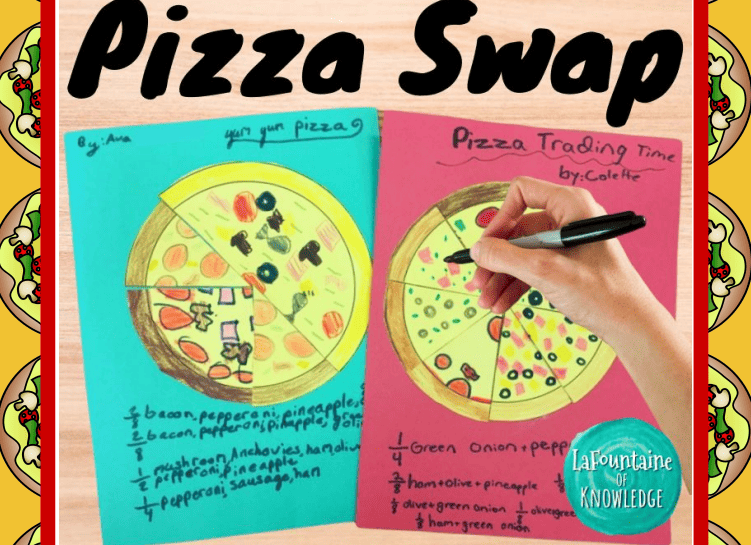 Kids will enjoy creating their own pizzas and then cutting them into slices. From there, they will work to barter for equivalent fraction pieces from their peers without even realizing they're learning!
Learn More: Teachers Pay Teachers
14. Get Chocolate Involved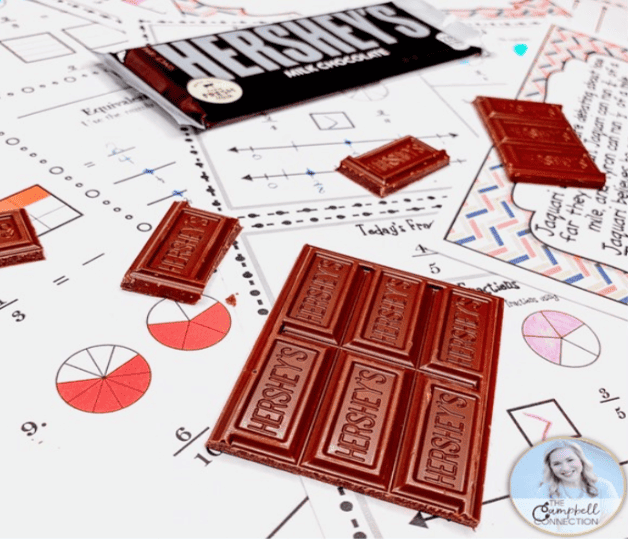 With the promise of chocolate, a child will likely be more receptive to what you have to say! Lucky for us, Hershey bars are beautifully split into fractions that kids can use to model and form equivalent fractions.
Learn More: The Campbell Connection
15. Equivalent Fractions on Whiteboards
While this sounds incredibly simple, students absolutely adore writing on whiteboards. They instantly make any activity more interesting. The ideas are endless, but one idea is saying or displaying a fraction and having your students draw the equivalent.
Learn More: The Applicious Teacher
16. Fraction Formula
This game is designed for a variety of fraction skills so there's no need to worry about investing- you'll get your money's worth! Students can race using equivalent fraction cards to see who can fill their cylinders the fastest.
Learn More: Amazon
17. Fraction Find
Using these no-prep printables, students will color the equivalent fractions to reveal the correct path. This is a great activity to practice fraction equivalents and quickly check your students' understanding.
Learn More: Appletastic Learning
18. Geoboards
Geoboards work as a great tool to develop fraction sense. Draw or display a fraction on the board and then support students as they work to find as many equivalent fractions as they can.
Learn More: Math Tech Connections
19. I Have Who Has – Equivalent Fractions
Give students fraction cards and have them hunt the room for a peer who has an equivalent fraction. This activity works to get kids up and collaborating.
Learn More: This Reading Mama
20. Musical Chairs Fractions
Musical chairs always get the attention of kids. As they get up and move and a student is eliminated, stop to discuss the fraction of kids standing versus sitting. Then, challenge students to come up with an equivalent number for the fraction.
Learn More: BrainPop Educators
21. Kahn Academy Introduction
Kahn Academy offers this simplistic introduction to equivalent fractions. He uses a simple explanation and pizza illustrations to hook kids. This video could serve as a whole class introduction or as a review to help students who are struggling.
Learn More: Khan Academy