Education is a journey, and each student's path is studded with unique triumphs, passions, and experiences. As educators, we have the privilege of helping our students present these milestones on paper; crafting compelling narratives of their high school journey! Delve into 17 tailored resume examples below- each designed to capture the essence of the diverse skills, interests, and achievements that your students possess.
1. Academic Trailblazer
Shine a spotlight on those academic high-flyers! This resume focuses on stellar achievements in our learners' educational journey; presenting their academic success, AP (Advanced Placement) classes, and honor roll statuses. It's a powerful testament to their intellectual prowess and dedication to learning.
Learn More: Shemmassian Consulting
2. Sporting Superstar
In this resume, we salute the students who bring their A-game, both on and off the field. Highlighting their athletic accomplishments, teamwork abilities, and physical fitness, this resume is a scorecard of their dedication to sports and fitness.
Learn More: Resume Genius
3. Artistic Maestro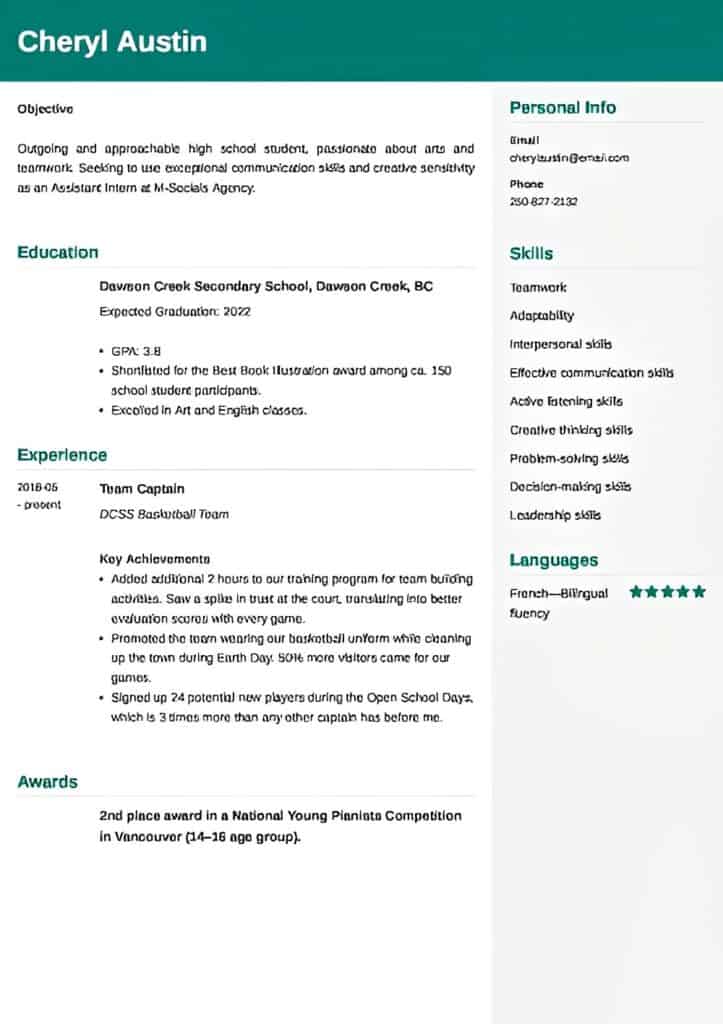 Designed for the Picassos and Beethovens of your class, this resume casts a spotlight on their creative talents. Featuring their accomplishments in music, visual, or performing arts, this resume paints a vivid portrait of their artistic journey.
Learn More: Zety
4. Compassionate Visionary
This resume is a tribute to the students who spend their free time making the world a better place. Highlighting their volunteering and community service activities, it tells a story of their commitment to social causes and their ability to inspire others.
Learn More: ResumeViking.com
5. Tech Titan
Perfect for those tech-savvy wizards in your classroom, this resume showcases their prowess in the digital realm. From programming languages to hardware know-how, this vita is a testament to their command of technology.
Learn More: Resume Kraft
6. Science Virtuoso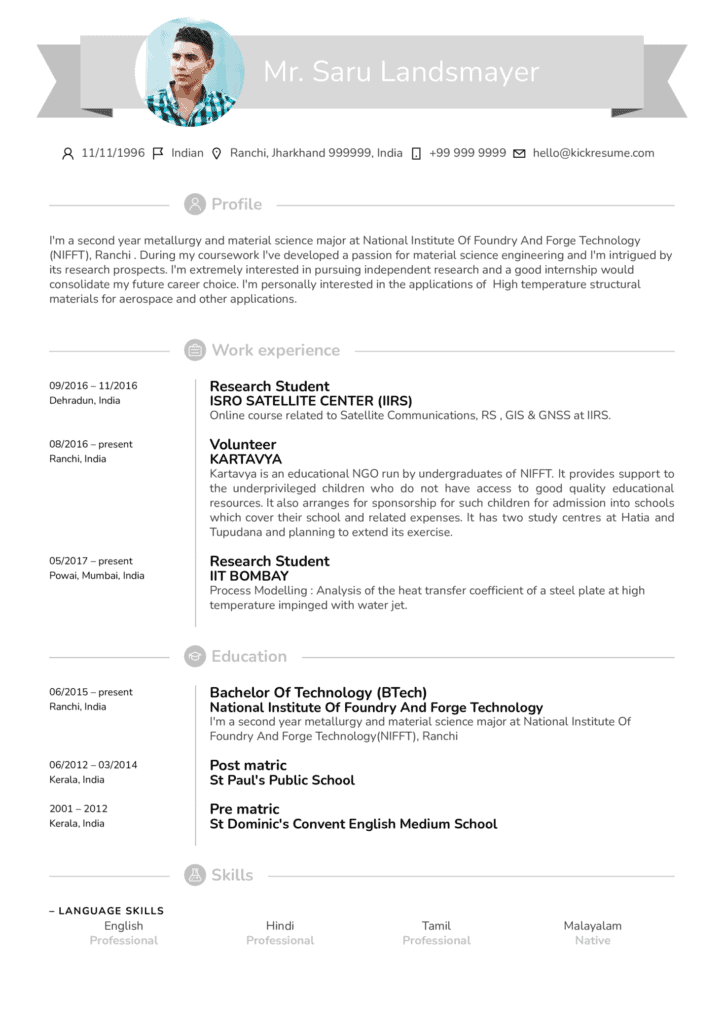 This CV illuminates the achievements of students with a thirst for scientific discovery! Outlining their skills in the lab, participation in science fairs, or relevant research experience, it maps their journey in the world of science.
Learn More: Kick Resume
7. Melodic Maestro
Perfect for students who've hit the right notes in the school band, this CV showcases their dedication to music. Highlighting their musical talents, team collaboration, and performance abilities, it composes a symphony of their musical journey.
Learn More: Yumpu
8. Global Communicator
This vita is perfect for celebrating the multilingual students in your class. It displays their language skills, cultural awareness, and aptitude for global communication.
Learn More: Beam Jobs
9. Leadership Luminary
For the budding leaders of your school, this CV showcases their knack for leading the pack. Highlighting their leadership roles, event organization experience, and team management skills, it sets the stage for their leadership potential!
Learn More: Resume Lab
10. Event Maestro
For the students who make things happen, this resume details their success in organizing school or community events. Demonstrating their project management skills, creativity, and problem-solving abilities, serves as a blueprint for their organizational talents.
Learn More: Qwik Resume
11. Master of Crafts
For students skilled in the trade arts, this vita celebrates their practical abilities. Showcasing their hands-on skills, trade certificates, and apprenticeship experiences, it constructs a narrative of their craftsmanship and technical prowess.
Learn More: Job Hero
12. Budding Tycoon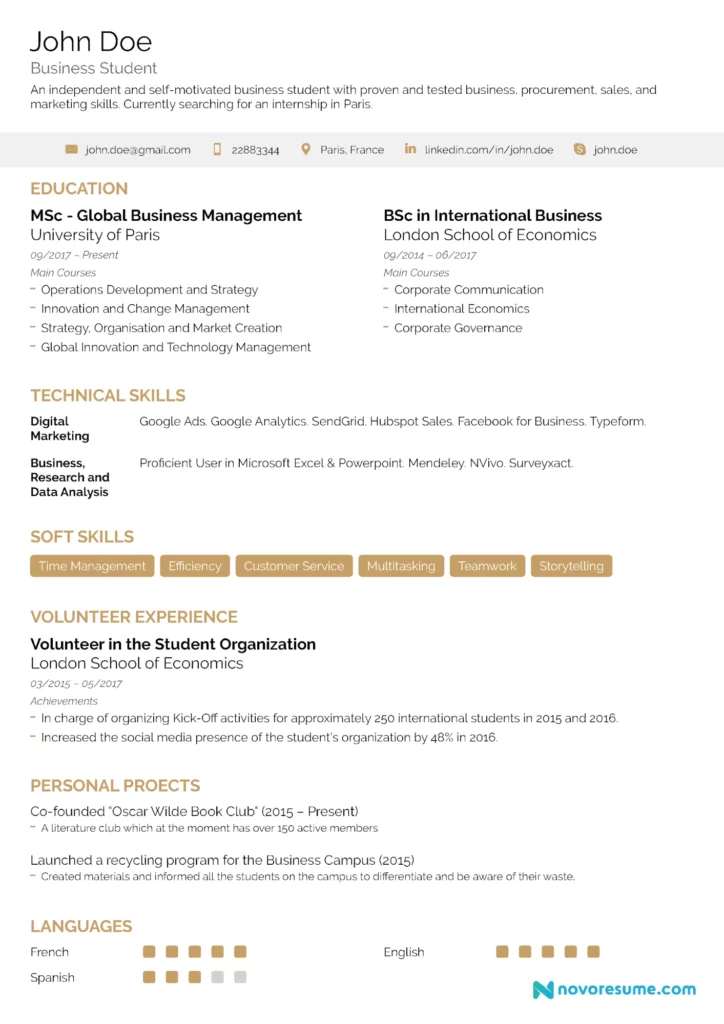 For the students who are taking their first steps into the business world, this resume highlights entrepreneurial ventures endeavored thus far. Detailing their business projects, financial savvy, and innovative thinking, it serves as a business card for their entrepreneurial nature.
Learn More: Novo Resume
13. Educational Mentor
This resume is perfect for students who guide others on their learning path. Emphasizing their tutoring or coaching roles, subject expertise, and leadership skills, it's a testament to their dedication to fostering growth in others.
Learn More: Resume Genius
14. Rising Professional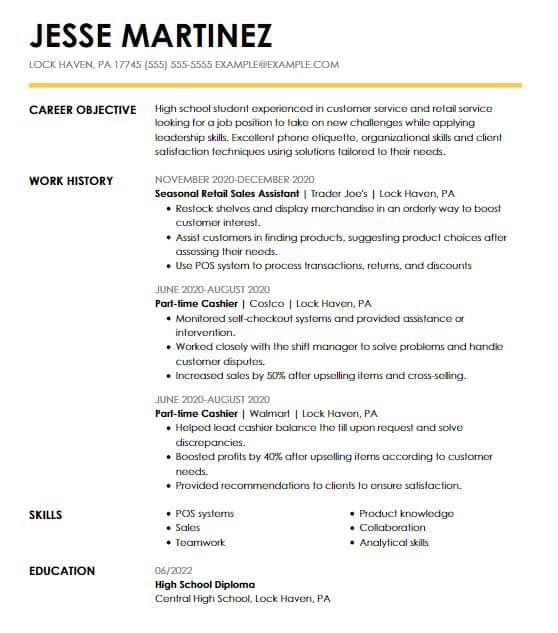 For the students who've had a taste of the corporate world, this resume documents their internship experiences. It records the professional skills they've acquired along the way and details their key responsibilities and any recognition they've earned.
Learn More: Job Hero
15. Literary Aficionado
For students with a passion for the written word, this CV highlights their literary accomplishments. Featuring their participation in writing competitions, publications, or significant reading achievements, it bookmarks their journey in the world of literature.
Learn More: Zety
16. Digital Storyteller
This resume is a perfect fit for students who share their voices through blogs or vlogs. It highlights their creativity, digital marketing skills, and ability to engage with an audience.
Learn More: Canva
17. STEM Prodigy
Designed for students who are intrigued by the fields of science, technology, engineering, and math, this vita sheds light on their STEM-centric accomplishments. Showcasing their STEM club participation, competition achievements, and related coursework, it's a blueprint for their STEM adventures.
Learn More: Beam Jobs
18. Green Guardian
This resume is tailored for students who have a passion for environmentalism and sustainability. Whether they're leading recycling campaigns, cleaning up public spaces, or planting trees in the local area, it spotlights their dedication to preserving our planet and accentuates their endeavors in green initiatives.
Learn More: QwikResume.com
19. Drama Dynamo
This one's for the thespians who light up the school stage. From starring roles to backstage management, this CV puts their drama and theater achievements at the forefront to clearly demonstrate their commitment to the dramatic arts.
Learn More: Beam Jobs
20. Historical Buff
Have your history enthusiasts write their own histories using this super resume example as a guide. It does a fantastic job of highlighting their interests in history as well as their achievements, their involvement in history clubs, participation in related competitions, and research projects. They'll be writing a history of their own achievements and extracurriculars!
Learn More: QwikResume.com
21. Math Marvel
For the math experts who excel in the numerical realm, this resume is sure to get them noticed. It perfectly showcases their mathematical abilities by emphasizing their accomplishments in math competitions, documenting their advanced coursework, and drawing attention to their analytical skills. What a fantastic way to sum up their skills and demonstrate their mathematical success.
Learn More: Zety
22. Social Media Maven
This resume is perfect for digital natives who have a strong presence on social media platforms. It's sure to draw attention to their skills in content creation, online engagement, and digital branding which will speak volumes about their ability to navigate and influence the digital realm with confidence and ease.
Learn More: Resume Genius
23. Public Speaking Pro
For students with the gift of the gab, this CV is a testament to their public speaking prowess. Highlighting their participation in debate clubs, speech competitions, or public speaking events, works wonders to amplify their voice and persuasive abilities even further.
Learn More: Resume Builder
24. Fitness Fanatic
For the fitness enthusiasts who thrive in the gym and pride themselves on their physical well-being, this resume celebrates their fitness journey. From yoga to weightlifting or even dance, it underscores their commitment and dedication to physical well-being and health education.
Learn More: Easy Resume
25. Culture Curator
Crafted for learners who immerse themselves in various cultural activities, this resume clearly showcases their appreciation for diversity and the rich tapestry of their community. It details their involvement in cultural clubs, events, and experiences which demonstrate their interest and commitment to learning about other cultures and traditions.
Learn More: My Perfect Resume