Ready to have your classroom brim with the vibrant colors and enticing mysteries of Halloween? Our handpicked list of 20 imaginative coloring activities promises not just fun, but also a journey into the heart of the season's traditions and symbols. From haunted houses and costume parades to creepy creatures and pumpkin patches, these coloring activities encourage creativity and enhance learning- all whilst fostering the spirit of Halloween!
1. Monster Mash Up
Let your students unleash their imagination as they breathe life into a unique Halloween monster using a vibrant palette and creative imagery.
Learn More: Skip To My Lou
2. Haunted House Scene
Watch as your students transform a detailed haunted house into a colorful spectacle using an array of colorful markers.
Learn More: Pinterest
3. Pumpkin Patch
This activity is a beautiful ode to all things Fall! Students can sit back, relax, and color a beautiful pumpkin patch in hues of orange and gold.
Learn More: Kids Activities Blog
4. Costume Parade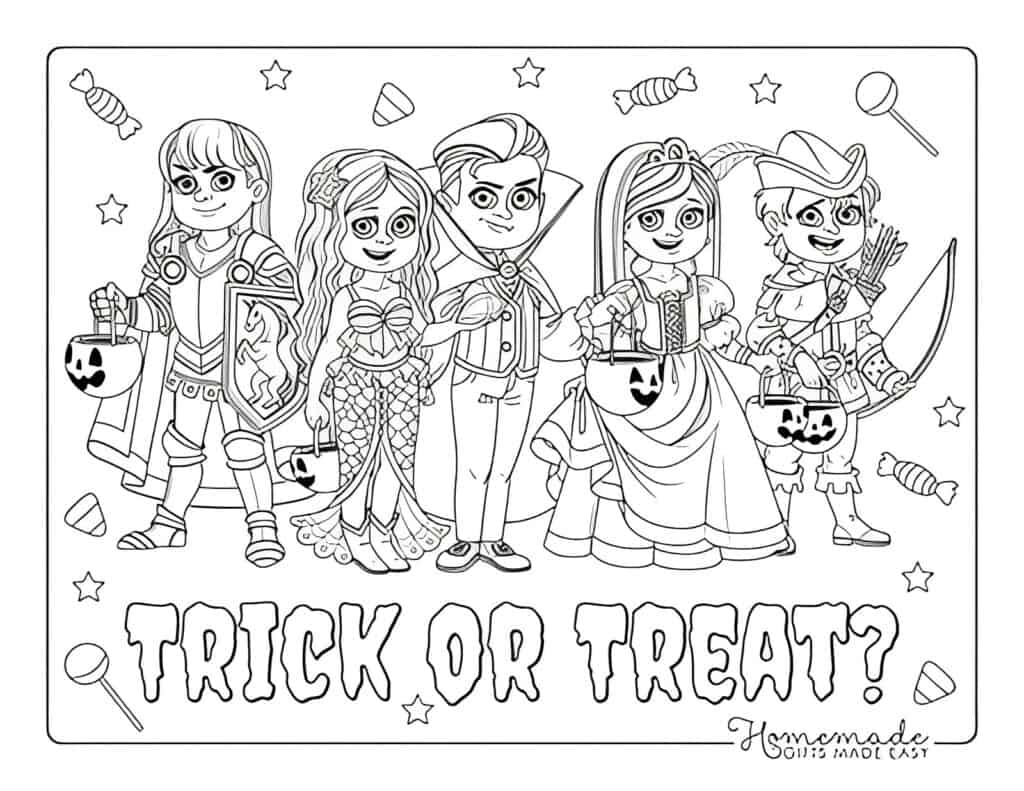 Witness the joy on your students' faces as they color children, each with a unique costume, to kit them out for a fun trick-or-treating adventure.
Learn More: Homemade Gifts Made Easy
5. Creepy Creatures
Let your students dive into a thrilling coloring spree; bringing somewhat creepy creatures like bats, spiders, and owls to life.
Learn More: Get Coloring Pages
6. Candy Delight
This coloring sheet is indeed a feast for the eyes! Make every student's sweet tooth tingle as they color a tempting variety of Halloween candies.
Learn More: YouTube
7. Halloween Night Sky
This sheet sees learners bring a nighttime scene to life by coloring a sky full of twinkling stars, a glowing full moon, and a faded purple backdrop.
Learn More: YouTube
8. Ghostly Patterns
Ignite the problem-solver within your students as you task them with spotting alternating ghouls and bringing them to life using different colors.
Learn More: Printabulls
9. The Witches' Ball
Bubble, bubble, toil, and trouble! Invite your learners to color witches dancing and cackling around a cauldron. The more vivid the colors, the more lively the image!
Learn More: Wonder Day
10. Spooky Forest Path
Journey down a spooky forest path with this sheet. Using bright hues to bring out looming trees and hidden creatures, your learners will encounter lurking surprises around every corner!
Learn More: Pinterest
11. Ghoulish Masks
Make a piece of wearable art with a mask-coloring venture! Learners can design and color their very own Halloween masks to wear all season long.
Learn More: Twinkl
12. Autumn Leaves
Here's a lighter take on a coloring sheet that still pays tribute to the Halloween season. Learners will encounter all varieties of Autumn leaves as they color their canvas in shades of orange, gold, red, and yellow.
Learn More: Skip To My Lou
13. Jack-O'-Lantern Expressions
Engage your students in coloring a variety of Jack-O'-Lanterns; each donning a different expression.
Learn More: Rask Rasil
14. The Black Cat
Have your students color a mysterious black cat wearing a witch's hat; making it as sinister or as friendly as they like.
Learn More: Super Coloring
15. Mystic Crystal Ball
Prompt your learners to imagine their future as they color a fortune teller's crystal ball.
Learn More: Free Pik
16. Zombie Zoo
Encourage your students to color zombified animals; making Halloween humorously horrifying. The more colors they use, the funnier the zombie animals become!
Learn More: Coloring Home
17. Frankenstein's Lab
Celebrate one of history's Halloween heroes by coloring the eerie scene of Frankenstein's lab. With each stroke, they'll unravel the story of this famous monster and his creator.
Learn More: Best Coloring Pages For Kids
18. Magical Potion Bottles
Guide your students in coloring various potion bottles using unique shading techniques. As they shade, dare them to concoct ideas of what their potion will do if consumed.
Learn More: TES
19. Spooky Scavenger Hunt
In this activity, students will add color to a variety of hidden Halloween items after finding the images scattered around the classroom.
Learn More: Wichita Mom
20. Cauldron Color by Number
Mix number recognition with coloring fun as your students bring a witch's cauldron to life using a guide of colors and numbers. The more numbers they recognize, the more colorful the cauldron gets!
Learn More: Pinterest