Knights, queens, and dragons, oh my! Children love a good fairy tale about fanciful, magical kingdoms. Harness the immense learning potential this theme holds using this list of imaginative activities for little learners! Children will explore shapes, counting, engineering concepts, multisensory literacy learning, and more, as they create and explore an enchanted kingdom. Delightful play like this will help your class develop a deep love of learning and believe that school can indeed be a magical place!
1. Make a Dragon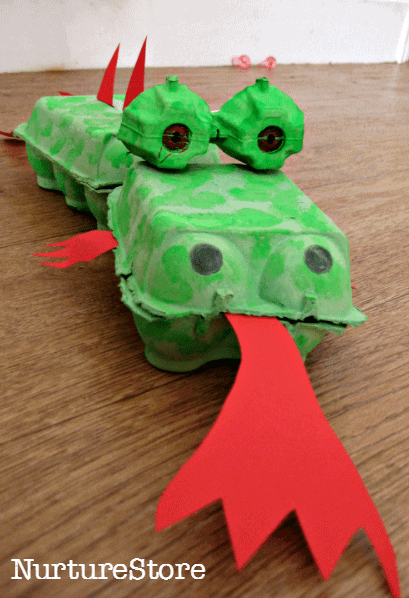 What child doesn't love dragons? Challenge them to make one from recyclable materials in this creative STEM challenge! Stockpile items like egg cartons, snack pouch lids, cardboard boxes, etc. Work on engineering and design skills by first having children create a blueprint, and then execute their plans!
Learn More: NurtureStore
2. Kingdom Play Mats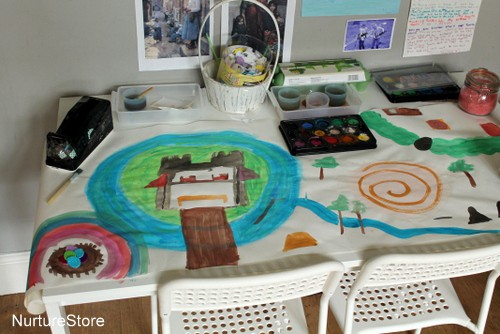 Small-world play is a great way to encourage students' thematic vocabulary learning! Have children demonstrate what they know by creating their own play mat for small-world play. They can add features like castles, moats, a knight's roundtable, and more! Just let the imagination and creativity flow!
Learn More: NurtureStore
3. Salt Tray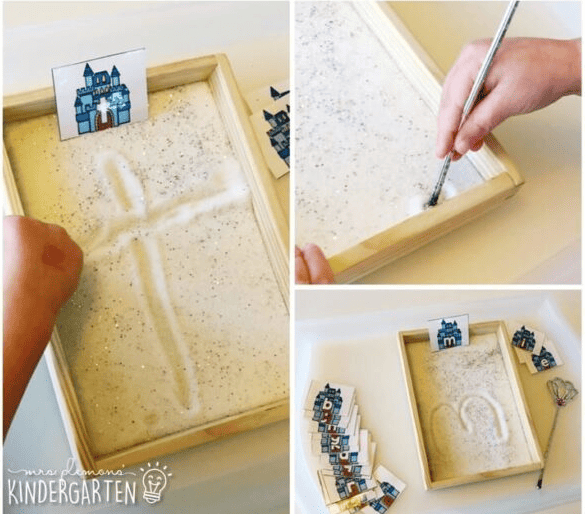 Work on letter formation with this sparkly writing tray! Mix some salt with a tablespoon of glitter, and provide the castle letter cards for students to practice. Children can write upper or lowercase letters using a magic wand for extra engagement!
Learn More: Mrs. Plemons' Kindergarten
4. Rapunzel Name Craft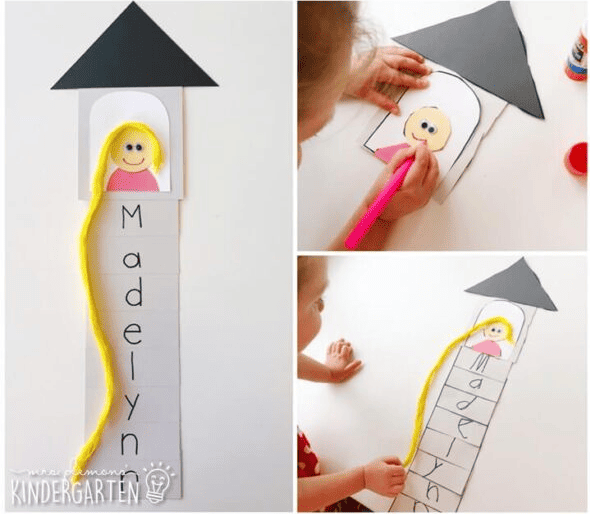 This sweet name craft uses the letters in each student's name as the building blocks of Rapunzel's tower. You can use index cards for the "stones" and will just need to cut out a triangle for the tower's roof! Compare the heights of students' towers and relate this to the length of their names.
Learn More: Mrs. Plemons' Kindergarten
5. Shield Patterns
This shield patterns game helps students develop visual discrimination skills, color recognition, and matching abilities! Students will look at each task card and reproduce the given pattern on their own shield template. Extend the activity by having students record the pattern they made on a shield printout!
Learn More: Planning Playtime
6. Shield Felt Board
Felt boards are often used alongside stories, but you can also harness student engagement by using them for some math practice! Leave the task open-ended and talk about the designs students create, or challenge children to match a given pattern. Add in more advanced shapes as students learn their names!
Learn More: Happy Tot Shelf
7. Knight and Dragon Color Sort
Sorting is one of those early childhood activities that children tend to undertake naturally. Provide them with a rainbow array of classroom manipulatives like buttons, pom poms, linking cubes, pattern blocks, etc. Then, let them figure out what to do with the task cards to promote critical thinking skills.
Learn More: Planning Playtime
8. Shape Crowns
Practice shape recognition and counting with this simple crown craftivity! Children will attach different shape cut-outs or foam stickers to decorate a crown they can wear when complete. For additional math learning, provide students with shape or number dice and have students add what they roll!
Learn More: Pocket of Preschool
9. Crown Dice Game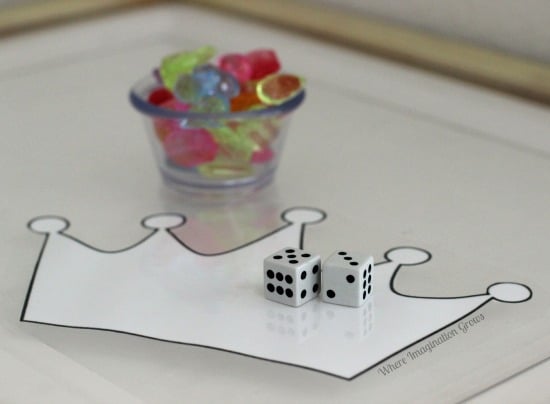 Place this printable crown on your light table with jewels and dice for students to play roll-and-add! Students can use one die for a simpler task, or two die to practice simple addition as they play! The sparkling jewels are sure to engage even your most reluctant learners at this center.
Learn More: Where Imagination Grows
10. Handprint Kings & Queens
This sweet handprint craft pairs well with a fairy tale study or learning about the letter Q! Children paint their palms with their skin color, then their fingers with gold or silver. They can draw in their faces and add sequins or jewels to adorn their crowns!
Learn More: Ceres Childcare