We all know that learning is fun, but they tend to learn even better when we bring the kids outside! There is something magical about letting kids explore nature. Not sure where to start? The 50 toddler activities below are sorted based on the content area they apply to. Topics included are science, writing, math, physical education, art, and a few social studies. Get outside and let the kids use natural materials, chalk, bubbles, and more to learn today.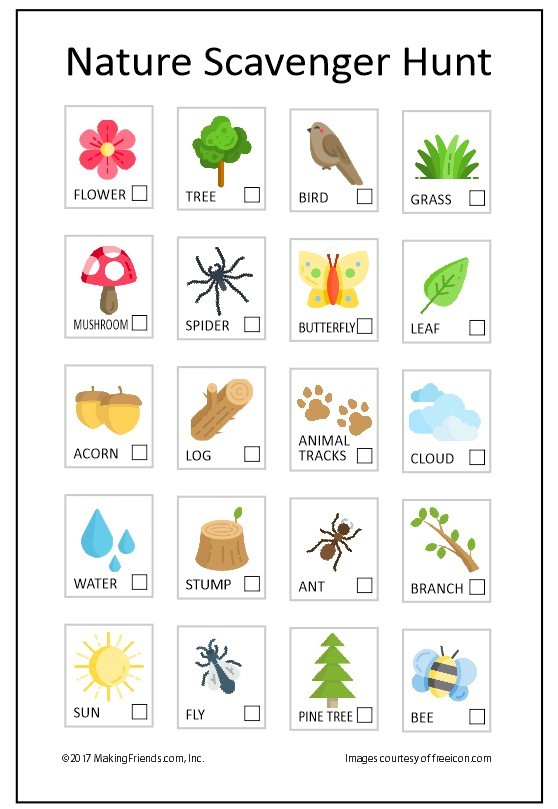 There are so many different ways to do a nature scavenger hunt. The image above is one example. You can have the kids use a crayon, marker, or dot marker to check off each item as they find it in nature. This is best done when on a walk or a hike.
Learn more: Free Kids Crafts
This is a great science experiment. You will need a big tub of water for the activity. Students can explore and grab some items from nature (leaves, rocks, sticks, flowers, etc.). You can also bring out some items from inside like balls, feathers, etc.  Talk about if the kids think that the items will sink or float and then let them drop them into the bucket to find out.
Learn more: Fantastic Fun and Learning
Show the different parts of the flower to the kids. Explain what each part is used for. Kids can go and collect more flowers and practice sorting them by part.
Learn more: Play, Teach, Repeat
4. Observing Animal Behavior
Many animals come to visit our backyards on a daily basis. Practice science skills and have kids identify what behaviors they see animals doing. Explain that animals do these things for specific reasons just like humans. Examples of behaviors they may see are animals eating, running, playing, or cleaning.
This STEM activity is tons of fun! Kids get to use materials to create a beaver dam. You can provide a 'river' made out of tin foil and allow kids to create a dam to stop the water by collecting materials like sticks and rocks. After the dam is created, have students pour water down the river to test the dam.
Learn more: Kitchen Floor Crafts
6. What Melts in the Sun?
Grab a cupcake tin and some random items (kids can pick) and find out what melts in the sun.
Learn more: Frugal Fun for Boys
Insects are important parts of our world and they need homes too. Insects like ants make really fancy homes. Have students use straws, cardboard tubes, egg boats, and other materials to make insect homes. Kids have a wonderful imagination so I'm sure their homes will all be creative and different.
Learn more: Red Ted Art
Chlorophyll is a pigment in plants. Pigments give plants their amazing colors by reflecting light. Have kids collect leaves and flowers. They can use these to paint by rubbing them onto the paper.
Learn more: The Building for Kids Children's Museum
9. Build a Nest (STEM Activity)
Choose a sunny spot and have partners trace each other a few times throughout the day to create the human sundial. It is important to stand in the same spot each time. Place an 'x' in the spot that the kids will stand in to be traced. At the end of the day, check out the human sundial!
Learn more: Rhythms of Play
In this activity, students learn about bees and how they collect nectar from flowers to make honey. Have each kid have a dropper to collect their nectar (yellow water). Kids run down to their flower to collect nectar and race back to put it into their honeycomb (ice cube tray).
Learn more: Turner Tots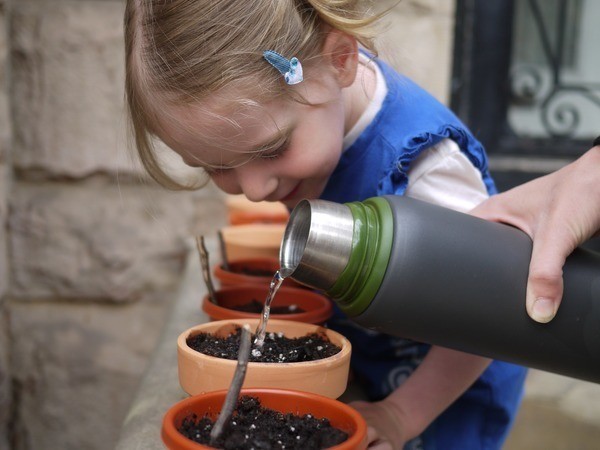 Planting seeds is so much fun. Have kids dig up some dirt. For this activity, they can plant seeds directly into the ground or into pots. Explain how seeds grow into plants by using carbon dioxide, water, and sunlight.
Learn more: Tinkergarten
Kids love playing memory. This activity requires minimal prep. Just gather some paper plates and a marker to make your large memory game. You can also make it nature-themed by putting different flowers instead of shapes.
Learn more: 123 Homeschool 4 Me
14. Matching Letter Game with Chalk
All you need is chalk sticks! Make a vertical list of uppercase letters. Parallel to that list, make a mixed-up list of lowercase letters. Have students draw lines to match upper and lowercase letters. This is a great activity for letter recognition practice.
Learn more: Crazy Life With Littles
Write sight words on index cards and tape them to cones (or something stationary like a tree).  Call out the word and have kids kick the ball to that cone. Repeat this with each cone.
Learn more: Chalk Academy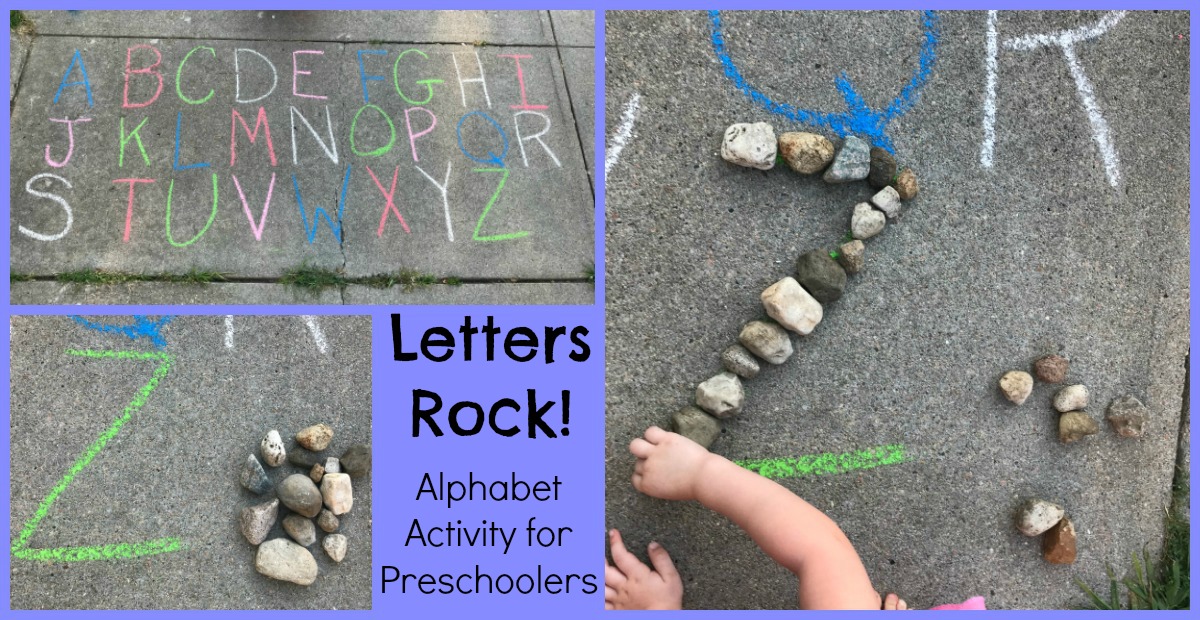 Use the letters you wrote for the matching letter game and have students use rocks that they collect to trace over their favorite letters. This is another great activity to practice letter recognition.
Learn more: The Preschool Toolbox
18. Write Your Name With Nature 
Kids use sticks, rocks, flowers, plants, and anything else they can find to write their name with nature. It's a great art project that also practices letter recognition.
Learn more: Adventure in a Box
19. Alphabet Target Practice - Water Balloons 
Draw letters on paper and tape them to trees. You can also draw the alphabet on something that is waterproof like a tote box lid. Fill up water balloons and have students throw them at the letter you call out.
Learn more: Reading Confetti
20.  ABC Sidewalk Chalk Game 
50. Where do I live? (Chalk)
Draw circles like the image above to go over where we live. The labels for the circles from outside to inside are as follows: planet, continent, country, state, city, street, house.
Learn more: Primrose Schools USA